42nd Annual Midwest Musky Classic
September 30, 2022 @ 8:00 am

-

October 2, 2022 @ 11:00 am
The Midwest Musky Classic is a fall fishing tradition! Join in the fun for your chance to win $1200 and a replica of your winning fish!
42nd Annual Midwest Musky Classic – September 30 to October 2, 2022 – Phelps, Wisconsin
Grand Prize: $1200 & replica of winning fish
2nd Prize: $1000
3rd Prize: $800
Big fish of the day cash prizes!
$90 registration fee per person. To register or for more information visit www.phelpswi.us or call 715-545-3800
Hat included with registration, tournament hooded sweatshirt available for extra $40
Fishing Hours:
Friday 8am to 6pm
Saturday 8am to 6pm
Sunday 7am to 11am
Awards lunch at noon on Sunday
Fishing on North & South Twin Lakes – Big Sand Lake – Lac Vieux Desert
Early bird registration ends September 15, 2022
New Anglers are entered into New Angler Drawing
Hook-a-Buddy Drawing! Invite friends to enter the tournament and receive an entry into the Hook-a-Buddy Drawing. You will receive 1 entry for each new angler that you invite that registers for the event.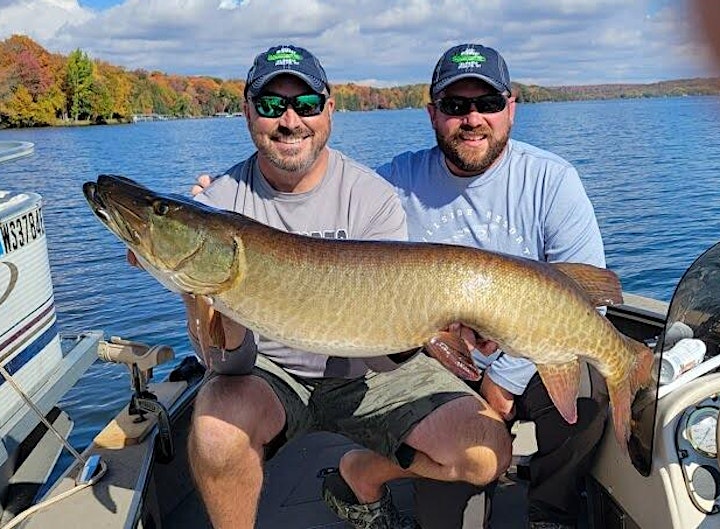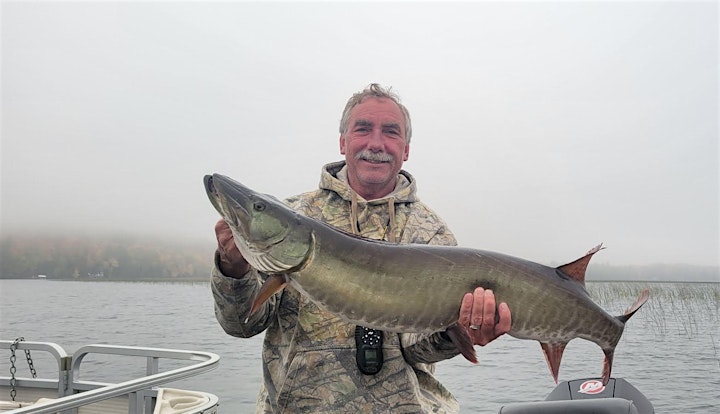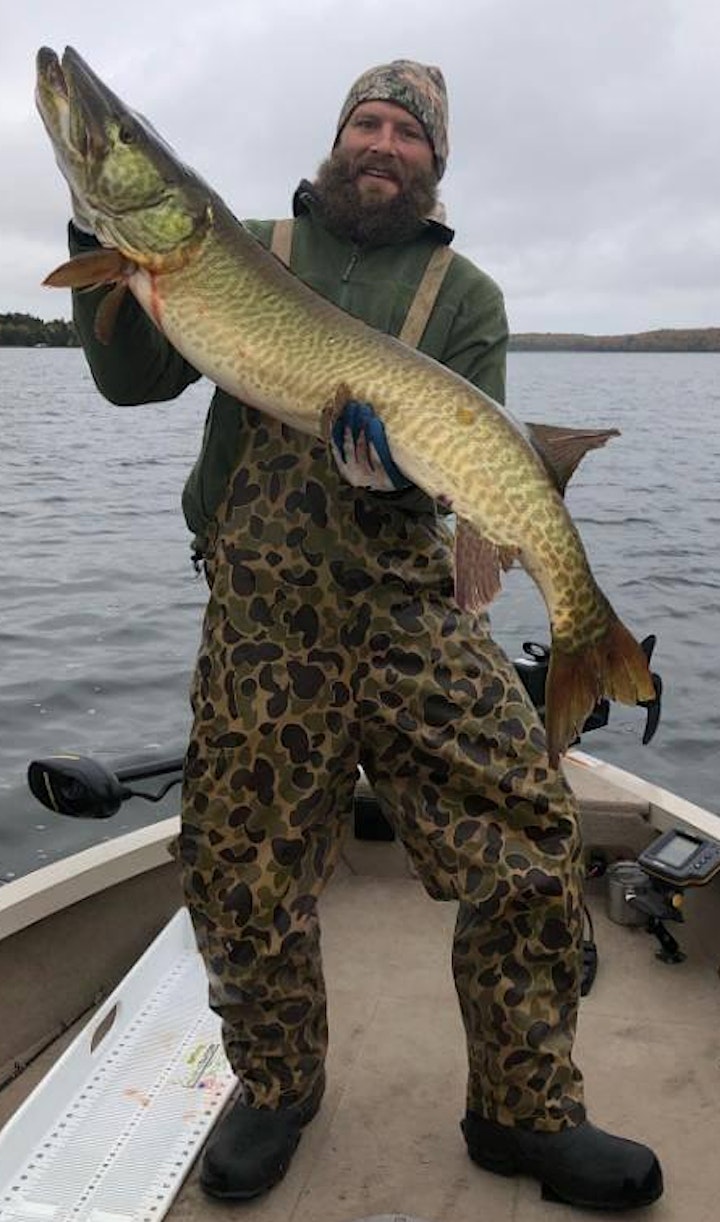 2022 Midwest Musky Classic Rules—READ CAREFULLY!
• All fishermen must respect duck hunters and stay away from their decoys.
• All boating laws apply, and fishing courtesies are expected. Remember that non-tournament boats have the right to fish as well.
• The Midwest Musky Classic will be held on Lac Vieux Desert, North and South Twin Lakes and Big Sand Lake on September 30, October 1 and 2, 2022.
• Fishing hours of the Classic are Friday and Saturday 8am to 6pm and Sunday 7am to 11am.
• Early bird registration deadline is September 15, 2022. There will be no refunds for accepted registrations. There will not be entry cards emailed or mailed as they are not needed for the tournament.
• Registration fee is $90 per contestant. This fee include Big Fish of the Day entry for all 3 days and tournament hat.
• Only one substitution can be made. This will be allowed on Friday morning before 8am. No other changes will be allowed under any circumstances.
• Prizes are as follows: 1st place—$1200 cash and replica of winning fish courtesy of Phelps Chamber of Commerce and Rick Lax Taxidermy, 2nd place—$1000 cash, 3rd place—$800 cash
• Prizes are subject to increase based on the number of participants. 1st, 2nd and 3rd prizes will be awarded to the biggest (longest) fish caught over the three days of the tournament. Contestants are only eligible to win one of the three grand prizes. Biggest (longest) fish of each day will receive a cash prize equaling $5 multiplied by the number of contestants. 1st, 2nd and 3rd place fish are also eligible to win Big Fish of the Day. If less than 3 fish are registered over the three days of the tournament 1st, 2nd and/or 3rd place will be raffled off on Sunday at the lunch with each participant receiving an equal chance. Must show ID and sign paperwork before receiving prize money.
• Winners will be determined by length of fish. Ties will be broken using the date and time of fish registration with the prize being awarded to the fish measured earliest. If still tied, prizes will be combined and split. There will be no weighing of fish according to state rules.
• Minimum length of a fish accepted in the classic is 36". All measurements will be done by tournament officials or someone designated by them. Once measurements are recorded, no fish will be re-measured.
• No fish will be counted or measured before or after set fishing hours unless officials have been notified of a fish being caught before the closing of tournament fishing hours.
• Fish must be registered at the point on the lake where the fish was caught.
• Fish must be registered as soon as caught (You cannot leave it in your live well continuing to fish. This is grounds for disqualification). Contestants must possess a cradle or landing net large enough to hold a musky upright in the water. The fish must be kept in the water until time of registration. Once a fish is caught, you may not move the boat under power unless it is necessary to avoid eminent danger or to facilitate the safe release of a fish.
• Release of the fish is highly encouraged. Officials will determine if a musky can be released, and the contestant cannot return to the water until such a determination is made. Should it be determined that a legal sized fish will not survive, it is to be harvested by either the contestant or tournament official and the participant will be done fishing for the day. All fish under the legal size limit must be released regardless of survival per DNR rules and regulations. However, if it is determined the undersized fish will not survive, the angler is still done fishing for the day.
• Tournament officials can require, at their discretion, contestants to open their live wells and inspect their boats before beginning to fish on each lake or at any time throughout the tournament.
• Contact information for the tournament officials, judge boats, lake maps, tournament hats, and any changes to locations will be available at the Phelps Chamber of Commerce office, Sand Lake Pub, Phelps Hillside Resort, and Sunrise Lodge on Thursday and Friday of the Classic. Contestants are required to check in at one of these locations as tournament hats are required during fishing hours. If known, preferred check in location should be indicated on registration form. Any changes made over the course of the weekend will be posted on the Phelps Wisconsin Facebook page.
• All contestants must have a valid Wisconsin fishing license and abide by Wisconsin fishing regulations.
• All persons in the boat must be entered in the Classic. Boats are not limited to two people.
• Any disqualifications will be determined by the tournament officials. Their decision is final.
• Any problems, complaints, or rule interpretations must be brought to the attention of tournament officials prior to the awarding of prizes.
• No trolling. According to the Wisconsin administrative code, "troll" or "trolling" means fishing by trailing any lure, bait or similar device that may be used to attract or catch fish from a boat propelled by a means other than drifting, pedaling, paddling or rowing. Casting and immediate retrieval of a bait, lure, or similar device while the motor is running (or "position fishing") is not considered trolling.
• Please remember that the judge boats are volunteers that are crucial to making this tournament possible. Please be polite.