If you are someone who loves cook-offs, eating, and gathering with friends and family, then Beef-A-Rama in Minocqua, WI is just the place for you.
For over 50 years, on the last Saturday of September, Beef-A-Rama has become a northern tradition in the heart of downtown Minocqua. Thousands of civilians will gather to celebrate Minocqua's famous cook-off, costumes, games, and drinking!
Continue reading to find out more about Beef-A-Rama!
History of Beef-A-Rama
Over several years, Beef-A-Rama has become one of Minocqua's all-time favorite festivals to celebrate the end of the summer. 
This idea came to life in the early 70s when beef competitions started heating up in the Northwoods.
You can expect many people to be dressed as silly cows, lots of laughs, and good eating when you so choose to attend Beef-A-Rama!
Beef-A-Rama Location
If you are from the Northern woods or make it your mission to travel up north every year, then you have probably heard of Beef-A-Rama.
This festival is located right in the heart of downtown Minocqua. You have minimal parking here, so be sure to get there early. Once you arrive at the festival, you will be pleased to know that everything is accessible on foot.
Beef-A-Rama Minocqua Attractions
Marathons
In the early morning of the festival, you can join Beef-A-Rama's 5K and 10K roast marathon around Minocqua Lake. You won't want to forget your cow costume because many people are very into dressing up for this occasion.
Once you have finished your walk or choose not to participate in the marathon, no worries; more entertainment is available!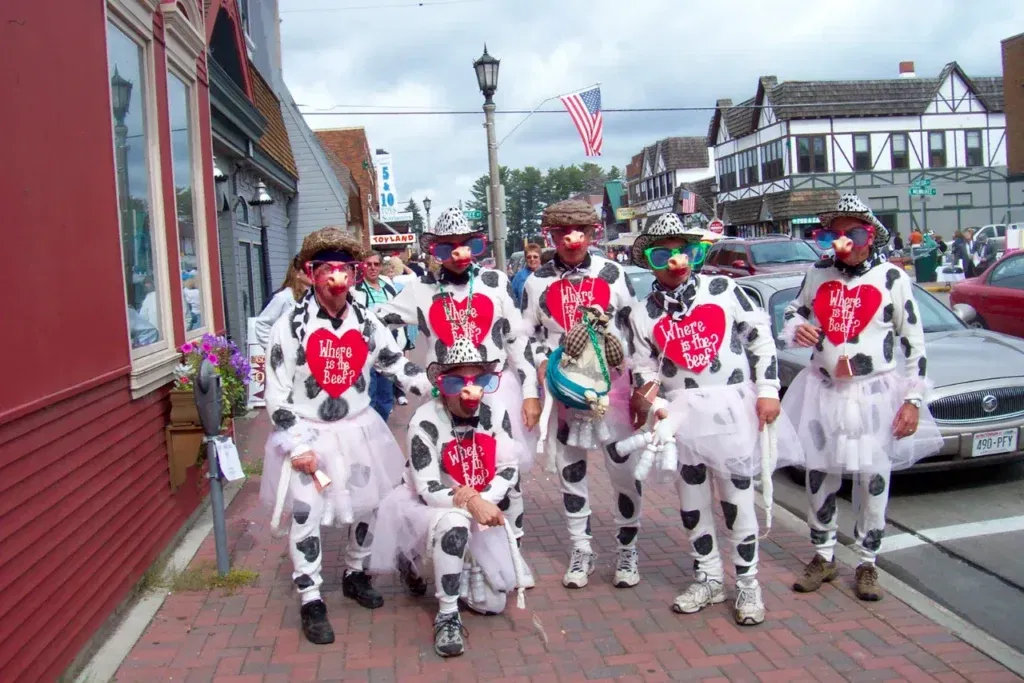 Live music, arts and crafts, and shopping are available at the festival.
The Prime Choice Craft Show
The Prime Choice Craft Show is one of Beef-A-Rama most popular attractions. Over 70 vendors set up tents here while displaying some of their most unique and valuable crafts for sale.
You can purchase anything from wood carvings, pottery, jewelry, home decor, kitchenware, photography, homemade recipes, and more!
Petting Zoo
Located usually right at the entrance of the cook-off, you will find Minocqua's petting zoo! Once a year, vendors will bring out some of your favorite furry friends to feed and pet. This is a great attraction to head over to and enjoy with the little ones.
Cow Pie Eating Contest
Just when you thought there was nothing else, there is! Be sure to check out or enter yourself for the beef cow pie eating contest. Contestants will race against one another to see who can eat the most cow pies for a prize.
Beef-A-Rama Cook-Off
If you have made it to this part of the article, it is time to get to the essential information.
Every year the competitors will vary. You can expect to see a lot of familiar faces when you continue to visit Beef-A-Rama every year. 
Usually, there are about 12,000 people attend this festival. You can expect to see several competitors competing for the best beef.
You will be pleased to try different cook-off food, such as ribs, pulled pork, brisket, sausage, stew, venison, and so much more!
Frequently Asked Questions 
Are there ATMs?
There are ATMs at a few bars you will come across downtown. Some booths will take cards, while others require cash.
Where can I purchase beef?
Several vendors will assist your hunger for fresh meat and other side dishes at the festival. 
Conclusion
Minocqua, WI, is a town filled with friendly, loving, and meat-eating people. Beef-A-Rama is another of Minocqua's fun-filled activities that you can add to your bucket list when traveling up north.
Mark your calendars for next September to be a part of one of Minocqua's best times of the year!